LAT (CEO Heung-Hwan Kim), a company in display equipment and materials, unveiled the world's first transparent intelligent 5G reflector based on a precision patterning process.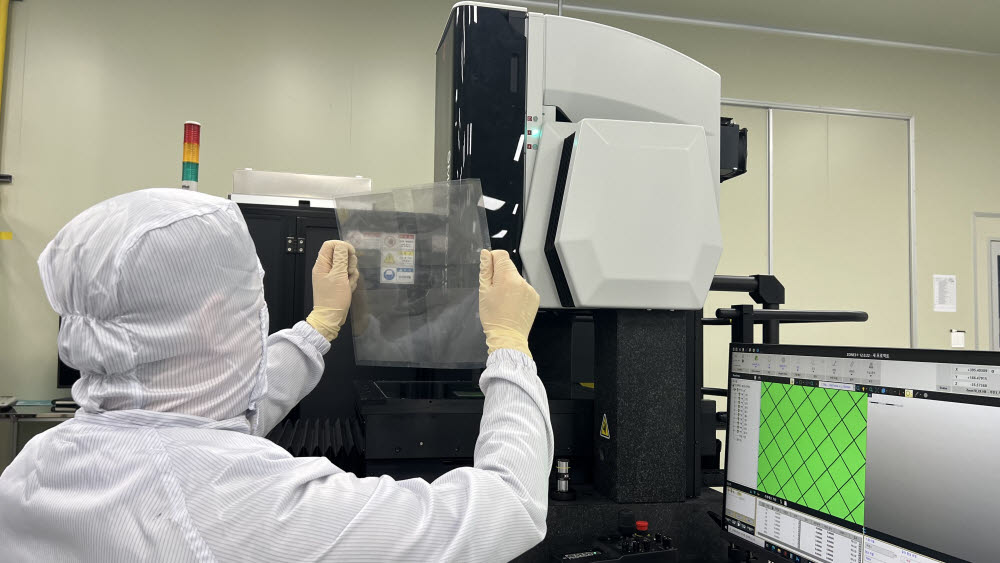 <LAT researcher is looking into transparent reflectors for 5G shaded areas. [Photo=LAT]>
LAT made an announcement on the 14th that it has developed a millimeter wave reflector using transparent pattern flexible materials in the 5G field as a result of three years of industry-academic cooperation with Professor Hong Won-bin's team at POSTECH (Pohang University of Science and Technology) to foster research and talent. Millimeter waves are electromagnetic waves with 30~300GHz frequency and 1~10mm wavelength.

Millimeter wave bands such as 28GHz, which are being commercialized and commercialized as 5G frequency bands in Korea, the United States, and Japan, have strong radio wave straightness, and often occur in shaded areas where radio waves are weak in some areas.

This leads to poor communication quality and is considered one of the challenges of 5G communication services based on millimeter wave bands. As an alternative, complementary devices such as repeaters and boosters can be used, but the device is bulky and is not suitable for use in offices or homes.

In addition, as power consumption is large, communication costs have risen, which is a major obstacle to the spread and commercialization of millimeter wave 5G.

However, LAT and POSTECH have solved such inconvenience by developing a flat radio reflector that does not require a power device.

POSTECH has been researching and developing and commercializing for many years in the millimeter wave communication band, and LAT has devised a reflector that can be implemented by freely adjusting the reflection angle according to the propagation incident angle in the millimeter wave 5G band.

When radio waves enter the surface of everyday life, diffused reflection occurs, and even though this reflector has a flat structure, it can freely adjust the reflection angle different from the incident angle of radio waves, overcoming existing limitations in terms of installation, operation, and performance.

In addition, this technology is expected to contribute to the establishment of communication infrastructure not only in 5G use but also in Sub-THz band-based 6G communication, which is expected to be commercialized in the future.

As this reflector uses transparent and flexible films, it can be installed invisibly in everyday spaces such as veranda, mirror, and window. In addition, it is expected that attaching it to windows of apartments or high-rise buildings will act as an antenna transmission tower in the city center to reduce costs and eliminate blind spots where radio waves are weak.

"Based on POSTECH's basic research results and LAT's advanced manufacturing technology, we will contribute to the development of 5G and 6G communication infrastructure and make every effort to mass-produce them through investment in additional facilities," said Kim Heung-hwan, CEO of LAT.

Kim Sang-woo, head of POSTECH's Industrial-Academic Cooperation Group, said, "This cooperation is an example of creating new synergy by combining the university's rich research know-how and corporate technology, and will manufacture Korea's technological competitiveness in the 5G and 6G fields."
Link : LAT Developed Transparent Reflector for 5G Shaded Area with Pohang University of Science and Technology - etnews